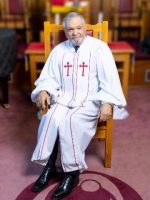 A native of Covington's Eastside. His father, the Reverend Howard E. Fowler, Sr. and mother, Naomi Lynem Fowler came from the Paris area in the late 1930's, settling in Covington in 1942. Rev. Fowler shepherd the Robbins Street Christian Church. Richard greeted the world in 1945 and was educated in the Covington school system being graduated in 1963 from the William Grant High School.
Richard Fowler
He continued his education at the University of Cincinnati acquiring a Bachelor's Degree in Engineering Science and with the Cincinnati Bible Seminary where he earned a Masters in Ministry Degree.
Richard acknowledged faith in Christ at eleven years old with the Western Avenue Christian Church, Los Angeles, California. While living in Covington, he exhibited his faith by being a part of the community choir and being a member of a number of churches in the city of Covington.
But the Lord moved on his heart in January, 1969 to become a member of the Ninth Street Baptist Church by baptism. He served there in a number of capacities; Sunday School Teacher, Deacon, Treasurer. In 1974, Richard was licensed to preach the gospel. Since that time, he was associate minister with the church until 1979 when he was ordained.
On the resignation of Rev. Henry Poyntz, the church immediately asked Rev. Fowler to be interim pastor. Within a few months the church was moved to have Rev. Fowler as pastor in 1983, where he still serves.
Rev. Fowler was in the military during the era of the Vietnam War. As a service member in the Navy and Army, he served while assigned within the Continental United States and abroad with units deployed in Europe.Richard and Loroma Fowler.  After military duty he worked at several companies before employment with the Procter and Gamble Company where he served 28 years, culminating positions of various levels in management.
Rev. Fowler and his wife Loroma celebrated forty eight years of marriage in the spring of 2014. They are the proud parents of a son, Richard, Jr. and a daughter, Nakia.
Rev. Fowler also serves the community through membership of numerous boards and committees. OASIS, Inc was formed as an outreach ministry of the church being a 501(c)3 non-profit agency. Now in its eleventh year, the agency moved into a separate facility in July, 2006. A building that had been a bar is now the office of a community service agency operated by the church.
Other agencies served are as follows:
Northern Kentucky Children's Home (Secretary for Two Years)
1984 to 1990
Northern Kentucky Community Center (President for Two Years)
1984 to 1989
Covington Partners in Prevention
1999 to 2005
Frank Duveneck Arts and Cultural Center Board (Vice President Two Years)
2000 to 2005
Family Services (Northern Kentucky and Cincinnati Board)
2000 to 2005
Kentucky African-American Heritage Commission
Commissioned 2000
Consolidated District of Kentucky Baptists Ministers and Messengers – Moderator
2001 to 2006
Consolidated District of Kentucky Baptists – Convention Dean of Studies
2007
Greater Cincinnati/ Northern Kentucky African-American Chamber of Commerce Board
2001 to 2003
Gateway Community and Technical College Board
Commissioned 2001 Re-commissioned – 2008
FEMA Funding Review Board
1999 to 2008
Northern Kentucky Juvenile Delinquency Prevention Council
2001 to 2004
Greater Cincinnati Foundation – Black Church and Philanthropy Planning Committee
2001
Covington School Board – Task Force of Review of Gifted and Talented Programs
2000
United Way of Northern Kentucky Action Council
2001 to 2008
United Way of Northern Kentucky – East Side Advisory Committee on Funding
2001 to 2003
Member of American Association of Christian Counselors
1999 to present
National Red Cross Board in Cincinnati
2003 to 2006
Northern Kentucky Re-Entry Program Committee
2006 to 2008
START Program (Addiction Prevention for Incarcerated Mothers)
2006 – 2008
Vision 2015 President Search Committee
2009
Covington Initiative Addressing the Homeless Population
2009
Greater Cincinnati Foundation: Grant Review Committee
2004 to Present
Offering Assistance Subsistence, Information and Support, Incorporated
Founder and organizer of OASIS Inc. – 2000; A 501(c)3 non-profit agency for education, community advocacy and substance abuse recovery
2000 to Present